Guitar Lessons
Musical notes
Figure 1 illustrates note names on a keyboard octave. The keyboard is based on intervallic patterns of diatonic scale.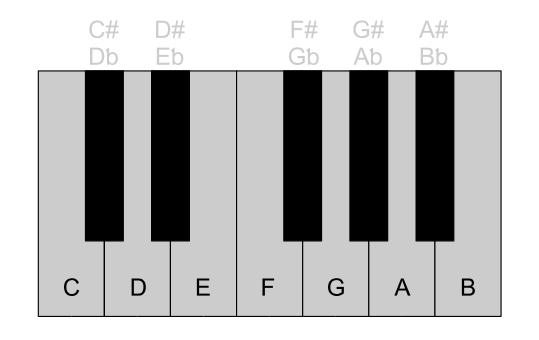 Fig. 1 Note names on piano keys
C D E F G A B - white keys, the C major scale (7)
C# D# F# G# A# - black keys (5)
12 notes

# - sharp, raises a note by semitone up
b - flat, lowers a note by semitone down

It's easy to remember the musical alphabet when you think of it this way:
it's very much like the alphabet that you use everyday but its last letter is G - A B C D E F G
there additional semitones between with the exception of E-F and B-C (there are two black keys missing, take a look at the keyboard illustration above)
Musical notes have unique frequencies. The unit of frequency in Hertz.
1 Hz = 1/s
1 Hertz means one per second. With a string instrument it's one string oscillation per second.
Table 1 represents musical notes and their frequencies divided into octaves.
| Octave | Note | Frequency [Hz] | Octave | Note | Frequency [Hz] |
| --- | --- | --- | --- | --- | --- |
| Twice marked contra | C2 | 16,351598 | Twice marked | c2 | 523,251136 |
| (32-foot) | Cis2 | 17,323915 | | cis2 | 554,365268 |
| | D2 | 18,354048 | | d2 | 587,329542 |
| | Dis2 | 19,445437 | | dis2 | 622,253974 |
| | E2 | 20,601723 | | e2 | 659,255121 |
| | F2 | 21,826765 | | f2 | 698,456470 |
| | Fis2 | 23,124652 | | fis2 | 739,988853 |
| | G2 | 24,499715 | | g2 | 783,990880 |
| | Gis2 | 25,956544 | | gis2 | 830,609404 |
| | A2 | 27,500000 | | a2 | 880,000009 |
| | Ais2 | 29,135235 | | ais2 | 932,327533 |
| | B2 | 30,867707 | | b2 | 987,766613 |
| Contra | C1 | 32,703196 | Thrice marked | c3 | 1046,502272 |
| (16-foot) | Cis1 | 34,647829 | | cis3 | 1108,730535 |
| | D1 | 36,708096 | | d3 | 1174,659084 |
| | Dis1 | 38,890873 | | dis3 | 1244,507948 |
| | E1 | 41,203445 | | e3 | 1318,510241 |
| | F1 | 43,653529 | | f3 | 1396,912940 |
| | Fis1 | 46,249303 | | fis3 | 1479,977706 |
| | G1 | 48,999430 | | g3 | 1567,981760 |
| | Gis1 | 51,913088 | | gis3 | 1661,218807 |
| | A1 | 55,000001 | | a3 | 1760,000018 |
| | Ais1 | 58,270471 | | ais3 | 1864,655065 |
| | B1 | 61,735413 | | b3 | 1975,533225 |
| Large | C | 65,406392 | Fourfold marked | c4 | 2093,004544 |
| (8-foot) | Cis | 69,295658 | | cis4 | 2217,461071 |
| | D | 73,416193 | | d4 | 2349,318168 |
| | Dis | 77,781747 | | dis4 | 2489,015895 |
| | E | 82,406890 | | e4 | 2637,020483 |
| | F | 87,307059 | | f4 | 2793,825880 |
| | Fis | 92,498607 | | fis4 | 2959,955412 |
| | G | 97,998860 | | g4 | 3135,963520 |
| | Gis | 103,826175 | | gis4 | 3322,437615 |
| | A | 110,000001 | | a4 | 3520,000036 |
| | Ais | 116,540942 | | ais4 | 3729,310131 |
| | B | 123,470827 | | b4 | 3951,066451 |
| Small | c | 130,812784 | Fivefold marked | c5 | 4186,009088 |
| (4-foot) | cis | 138,591317 | | cis5 | 4434,922141 |
| | d | 146,832385 | | d5 | 4698,636335 |
| | dis | 155,563493 | | dis5 | 4978,031791 |
| | e | 164,813780 | | e5 | 5274,040965 |
| | f | 174,614118 | | f5 | 5587,651761 |
| | fis | 184,997213 | | fis5 | 5919,910824 |
| | g | 195,997720 | | g5 | 6271,927040 |
| | gis | 207,652351 | | gis5 | 6644,875230 |
| | a | 220,000002 | | a5 | 7040,000073 |
| | ais | 233,081883 | | ais5 | 7458,620261 |
| | b | 246,941653 | | b5 | 7902,132902 |
| Once marked | c1 | 261,625568 | Sixfold marked | c6 | 8372,018176 |
| (2-foot) | cis1 | 277,182634 | | cis6 | 8869,844283 |
| | d1 | 293,664771 | | d6 | 9397,272670 |
| | dis1 | 311,126987 | | dis6 | 9956,063582 |
| | e1 | 329,627560 | | e6 | 10548,081930 |
| | f1 | 349,228235 | | f6 | 11175,303521 |
| | fis1 | 369,994427 | | fis6 | 11839,821649 |
| | g1 | 391,995440 | | g6 | 12543,854081 |
| | gis1 | 415,304702 | | gis6 | 13289,750460 |
| | a1 | 440,000005 | | a6 | 14080,000145 |
| | ais1 | 466,163766 | | ais6 | 14917,240522 |
| | b1 | 493,883306 | | b6 | 15804,265803 |
Table 1 Musical notes and their frequencies divided into octaves
« Back to Lessons