Articles

B.C. Rich IT Jr. V review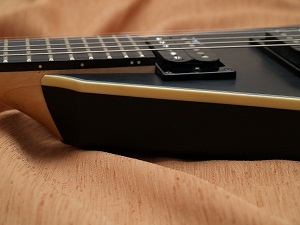 B.C. Rich IT Junior V is an interesting guitar for rock & metal players. It's a classic junior V shaped body and black widow headstock. Dave Suzuki (Vital Remains) and Darrell Roberts (Five Finger Death Punch) are known guitarists who played this model a bit.
IT (InvisaBolt) is technology of joining guitar's neck and body and it's somewhere between bolt-on and neck-through. It's a bolt-on, however the bolts are located under guitar's pickups. That way they are not visible and the neck goes further into into the body giving greater connection area.
Read more on IT technology on B.C. Rich website
Tuning stability 7/10
With medium gauge strings it's very much okay, with 9-42s it could be better however the guitar is still useful. Tuners are of medium quality, neck appears to be made of 5 pieces of wood and is quite stable despite its small thickness.
Acoustic sound 8/10
IT Jr. V produces nice and soft tones with lots of mids. There are no obvious dead notes. It could be louder but it's not quiet on the other hand.
Electric sound 7/10
Plugged into an amp IT Jr. V doesn't sound as aggressive as its looks. B.D.S.M. pickups are medium output humbuckers. The sound saturates nicely and it's all-around rock sound.
Finish 6/10
Overall finish was decent with some exceptions. Nut height was too big, one fret was too high and two truss rod cover screws were damaged and broke after first attempt to unscrew them. Their heads fell off leaving the rest inside the headstock. Other than that there were no flaws.
Neck 9/10
The neck is easy, thin and cool. It's very much like Ibanez RG necks with it's 19mm thickness at 1st fret. Upper fret access is very good although the neck is pretty thick in the body area.
Table 1 B.C. Rich IT Jr. V neck dimensions
| Dimension | Value |
| --- | --- |
| Width at nut | 43mm |
| Width at 24th fret | 57mm |
| Thickness at 1st fret | 19mm |
| Thickness at 12th fret | 21.5mm |
| Fretboard radius | Seems to be greater than 400mm |
Features 8/10
Standard features, no extras like graphite nut or straplocks. One volume, one tone knob and 3-way switch that is accessible.
Balance 10/10
Great balance, it's a very comfortable instrument.
Weight 8/10
Medium weight, feels just about right.
Price 6/10
500 euros or so. It's a cool and playable instrument in overall, however I don't think it's worth that much with its finish quality and tuning stability.
Specification
24 medium jumbo frets
B.C. Rich BHC humbuckers (HH)
Hard maple neck, InvisaBolt construction
Ebony fingerboard
Nato body
Volume pot
Tone pot
Fixed tune-o-matic bridge with strings through body
Black Widow head
Black widow position marker on the 7th fret
« Back to Articles