Articles

Dean Dave Mustaine VMNT review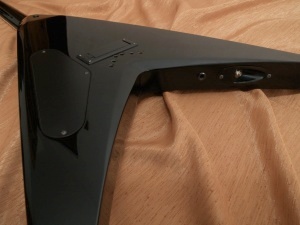 Dean VMNT is a V shaped axe for metalheads. It offers fixed bridge, 24 frets, active signature Seymour Duncan humbucking pickups, mahogany body, ebony fingerboard and cool looks. Dave Mustaine is the guitarist and singer of the metal band Megadeth with many epic albums and thousands of gigs under his belt.
Tuning stability 10/10
Fantastic, it stays in tune. Tuners are high quality with a high ratio, it's easy to tune this guitar, it hardly goes out of tune.
Acoustic sound 10/10
Strong, loud and full mahogany tone. Tight, resonant, bright with not so much middle range, all notes sustain equally long. The sustain is impressive, in standard D tuning however the E note on the D string on the 4th fret silences a bit too quicker. In standard tuning this note happens to be on the 2nd fret and the issue is gone.
Electric sound 10/10
Seymour Duncan Live Wire Dave Mustaine pickups are in fact active versions of Seymour Duncan SH-4B Jeff Beck and SH-2N Jazz. They offer more punch and the same resonant frequencies. What is really cool about them is that by no means they sound like typical active products. The sound is powerful and rich, but still natural and round. Basically they're not EMGs, they're not passives but they sound nice. I don't find them to be exceptionally silent.
Finish 8/10
Flawless, almost flawless. Nut was installed rather poorly in terms of aesthetics, correctly however. Fingerboard binding is not even around the 24th fret. Frets are even, but they look like someone was using a file in a bit of a hurry. More than that the frets are nicely thin but unpleasantly high which is a con when performing slides. One fret leveling later their height seems a lot more okay.
Neck 7/10
VMNT neck is interesting because it's similar to Ibanez RG necks - it offers the same thickness at 1st and 12th frets. It's surprisingly wide at nut - 44mm. It's great for playing chords, not so great for playing solos. Upper fret access is limited. It's not a bolt-on, however the body and strap come in the way of your fingers. You can't really hug it there. Probably that is to save some tone. If I had longer fingers... Perhaps it wouldn't be an issue and I would give it a better score.
Table 1 Dean VMNT neck dimensions
| Dimension | Value |
| --- | --- |
| Width at nut | 44mm |
| Width at 24th fret | 58mm |
| Thickness at 1st fret | 19mm |
| Thickness at 12th fret | 21mm |
| Fingerboard radius | 16" |
Features 7/10
I'm giving VMNT just 7 here because of the pointless three pots which for most metal players are useless and what's more in VMNT two of these pots are getting in the way to the pickup selector switch. The idea itself of having two volume knobs is unreal to me. Only after removing the two needless pots and rewiring the guitar electronics you get quick access to the pickup selector. Dave himself admitted that he rarely uses the neck pickup, those who do use it won't like the two pots getting in the way. Other than that the features are exactly what I would expect from this guitar. Dunlop straplocks cannot go unnoticed. They are great because unlike Schaller straplocks they don't stick out of the guitar. What's not cool about them is that it takes a while to mount them to the strap, so you gotta have a strap just for this guitar that you will not be able to use with another guitar. There's a hardcase included, but it's very heavy. It's great for storage and transport but certainly not for taking VMNT to everyday rehearsals.
Balance 10/10
VMNT is very well balanced. Playing it while standing is a cake. Body profile makes it as comfortable as a V can be in sitting position.
Weight 9/10
Rather heavy but within reason.
Price 9/10
Price - around 800 euros new, rather good value for the money.
Specification:
24 jumbo frets
25.5" scale
D shaped mahogany neck
Ebony fingerboard
Mahogany body
Fixed tune-o-matic bridge with strings through body construction
Seymour Duncan LiveWire Mustaine humbucking pickups (HH)
3-way switch
2 volume pots
1 tone pot
Finish - Black
Year of production - 2008
Country of production - Korea
« Back to Articles