Articles
E-MU 0404 PCI-E audio interface review
Features 8/10
This audio system offers:
24-bit/192kHz converters: 111dB SNR A/D, 116dB SNR D/A, 0.001% THD+N
Two mono 1/4" analog inputs
Two mono 1/4" analog outputs
Optical S/PDIF I/O
Coaxial S/PDIF I/O
MIDI I/O
Built-in DSP with zero-latency monitoring with effects
Line inputs aren't suited for guitars with passive pickups and instruments with active pickups offer too weak signals to drive them and that's why an active DI box is a must here. WAVES/PRS GTR3 interface works well with its balanced output set to line level.
You can't really complain given its quality and price. Plugging instruments and microphones, however, requires additional external hardware.
Sound quality 9.9/10
0404 PCIE sounds incredible. There's no way to compare this audio interface to any USB audio interface that I've come across. It gives music deepnes, space and makes your heart go faster and it sends shivers go down your spine. The sound is surprisingly dynamic and brilliant in higher frequency ranges, lows are tight, clear and still pleasantly round.
Remember that tune that you really loved in the past and you don't know what happened but you don't feel that way anymore? Listen to it on 0404 PCIE.
Round trip latency, driver performance
Lowest round trip latency is 6.2ms at ASIO buffer size of 88 samples and sample rate of 44.1kHz. This is really great and it surely can compete with far more expensive interfaces. Increasing sample rate all the way up reduces the latency further to approx. 5ms. It takes audio 2ms to go through 0404 PCIE with hardware direct monitoring feature.
Update (June 7th, 2012)
There's a small latency drift of maximum 7 samples @ 44.1kHz (0.1587ms). Driver performance is acceptable - in a session with two tracks loaded with amp sims and IR cabs there was only occasional popping at the lowest buffer size on an i3-2100 based machine running under Windows 7 32-bit.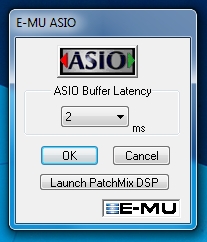 E-MU 0404 PCIE ASIO settings window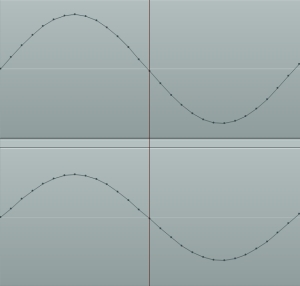 E-MU 0404 PCIE simple loopback recording at lowest buffer size (88 samples) @ 44.1kHz
DSP
The built-in DSP is capable of sophisticated mixing, routing, direct monitoring and adding effects. It's possible, for instance, to rout any input source to an ASIO channel or ASIO output to WDM input. Offered effects include EQs, reverb, delay, chorus, distortion, guitar speaker simulator. Guitarists won't be impressed by their level of realism but they should like the possibility to record dry while rehearsing through these effects with a latency of only 2ms. Every effect is processed by the DSP, it's also possible to use E-MU DSP accelerated effects in any DAW but it doesn't seem to work on Vista/7 at the moment.
E-MU 0404 PCIE PatchMix DSP main (left) and FX (right) windows
Ease of use 8.5/10
PatchMix DSP can be probably confusing to some users due to the fact that it offers a lot. It's not that difficult anyway, it comes with many templates and you can save your sessions and even channel FX chains. It's a lot like any DAW software. It's not rocket science, but reading the manual might be a good idea.
Price 10/10
Great price for the value, it costs around 90 euro new.
Advantages
Drawbacks
E-MU 0404 PCIE on http://www.creative.com/emu/
Related articles:
Technical specification
General
Sample Rates: 44.1, 48, 88.2, 96, 176.4, 192kHz from internal crystal or externally supplied clock (no sample rate conversion)
Bit Depths: 24-bit I/O, 32-bit processing
PCIe Specification:

PCIe Base Specification 1.1 compliant
Form Factor: Universal-keyed PCIe x1 Card
3.3V I/O
PCIe Bus Mastering Subsystem reduces CPU Usage

E-MU E-DSP: 32-bit DSP with 67-bit accumulator (double precision w/ 3 headroom bits)
Processing: Hardware-accelerated, 32 channel mixing, and multi-effects processing
Hardware monitoring: Zero-latency direct hardware monitoring w/effects
Drivers: ASIO2, WDM/MME/DirectSound, and 64-bit Drivers
Anti-Pop speaker protection: Minimizes noise during power on/off
Ultra-low jitter clock subsystem: < 1ns in PLL mode (44.1kHz, Opt. S/PDIF Sync)
Analog Line Inputs (2)
Type: DC-coupled, low-noise input circuitry
A/D converter: PCM1804
OpAmp: NJM2068
Level: -10dBV nominal, 6dBV max (unbalanced)
Frequency Response (20Hz-20kHz): +0.20/-.10dB
Dynamic Range (1kHz, A-weighted): 111dB
Signal-to-Noise Ratio (A-weighted): 111dB
THD+N (1kHz at -1dBFS): -100dB (.001%)
Stereo Crosstalk (1kHz at -1dBFS): < -120dB
Analog Line Outputs (2)
Type: Low-pass, 3-pole low-pass differential filter
D/A converter: AK4396
Level: -10dBV nominal, 6dBV max (unbalanced)
Frequency Response (20Hz - 20kHz): 0.05/-.010dB
Dynamic Range (1kHz, A-weighted): 116dB
Signal-to-Noise Ratio (A-weighted): 116dB
THD+N (1kHz at -1dBFS): -100dB (.001%)
Stereo Crosstalk (1kHz at -1dBFS): < -109dB
Digital I/O
S/PDIF:

2 in/2 out optical or coaxial (transformer coupled)
AES/EBU or S/PDIF format (software selectable)

MIDI:
Synchronization
Internal crystal sync: 44.1, 48, 88.2, 96, 176.4, 192kHz
External sample rate sync: -S/PDIF (opt. or coax 44.1 - 96kHz)
SMPTE/LTC/MTC (via optional Sync Daughtercard):

24, 25, 30 drop-frame, 30 non-drop
SMPTE to MTC, MTC to SMPTE Conversion
SMPTE Striping
Flywheel/Jam/Regenerate

S/PDIF:

2 in/2 out optical or coaxial (transformer coupled)
AES/EBU or S/PDIF format (software selectable)
Retail Box Contents
E-MU 0404 PCIe Card
E-MU Digital Audio System CD-ROM
Microsoft® Windows® XP, Windows Vista®, Vista x64 Drivers
E-MU PatchMix DSP
E-MU E-DSP Effects Library - Owner's Manual and Tutorials
Analog I/O Cable Harness
Digital I/O Cable Harness
Minimum System Requirements
Intel® or AMD® processor - 1 GHz or faster
Intel, AMD or 100% compatible motherboard & chipset
Microsoft® Windows® XP (SP 3), Windows XP x64, Windows Vista® (SP1 or higher), Vista x64
256MB System RAM
900MB of free hard disk space for full installation
PCIe x1 Compliant slot for E-MU 1010 PCIe card (also compatible with x4, x8 or x16 PCIe slots)
CD-ROM/CD-RW or DVD-ROM drive required for software installation
XVGA Video (1024 X 768)
Source - E-MU 0404 PCIE product page on www.creative.com/emu
« Back to Articles