Articles
Focusrite Saffire PRO 14 review
The Focusrite Saffire PRO 14 is a firewire audio interface for PC and Mac computers. It offers 8 inputs, 6 outputs, great sounding Focusrite preamps, 2 Hi-Z inputs and a phantom power. It uses JetPLL™ jitter elimination technology that ensures stable clock and pristine audio quality.
Features 8/10
Features:
8 inputs (4 analog, 2 S/PDIF, 2 loopback), 6 outputs (4 analog, 2 S/PDIF)
2 Focusrite preamps
2 Hi-Z instrument inputs
JetPLL™ jitter elimination technology
Sample rates up to 96kHz
Phantom power
S/PDIF I/O
MIDI I/O
This interface has pretty much standard features, but what's interesting is a software loopback stereo input which allows recording the output mix of the device.
Sound quality 9.7/10
The PRO 14 sounds pleasantly with soft low middle range and enough clarity to my ears. It's not as tight sounding as Presonus Firestudio Mobile, but it has a nice character of its own.
Hi-Z inputs are really exceptional in this unit. They have plenty of clean gain and sound nothing like most digital devices with instrument inputs. Without processing recorded guitar tracks sound full, dynamic and natural. With input gain set to 3.5/10 there's more gain than on other interfaces with gain set to 5 or 7.
Compared to the PRO 24, the PRO 14's guitar inputs sounds a little bit better. These are differences in A/D and D/A dynamic range of both units:
| Parameter | Saffire PRO 24 | Saffire PRO 14 |
| --- | --- | --- |
| A/D dynamic range | 105dB (A-weighted) | 109dB (A-weighted) |
| D/A dynamic range | 105dB (A-weighted) | 106dB (A-weighted) |
Saffire PRO 24 vs Saffire PRO 14, information taken from user guides downloaded from www.focusrite.com (FA0268-02, FA0415-01)
I noticed a small problem when the unit was powered via Firewire bus - occasional noise appeared in the guitar signal chain and it seemed to have some connection with what was going on with Mac mini that the Saffire was connected to. The problem never appeared when the PRO was powered through the included external power supply. Note that the Mac mini also uses a power plug without the earth pin.
Phase issue, headphone out
There's a 180 degree phase shift on the phones out that the Focusrite support confirmed to me in a reply to my inquiry. In other words the phase is inverted. In theory this shouldn't make a difference as the sound is a wave and it doesn't matter to human ear if it's compression or decompression, because both are perceivable. IMHO it does sound a bit different especially on headphones, giving an impression of more saturated and fuller low end, and, what's worse, it also affects double and quad tracking guitars resulting in a certain weird quality in recorded material (phase issues?). Fortunately the PRO 14 has other outputs which work fine.
Round trip latency, driver performance (Mac OS X Lion, Intel Core i5-2410M)
Measured round trip latency goes down to 5.011ms (221 samples @ 44.1kHz) at Core Audio buffer size of 14 samples and firewire driver latency set to Short. With the buffer set to 128 samples at the same driver latency mode, the overall latency raises to 10.158ms (448 samples). These are very good values. There's no latency drift - it's stable no matter what. Drivers are reliable and their low latency performance is fantastic.
Latency raises by 2 samples when using custom mixes via MixControl (you can redirect DAW outputs to physical outputs).
Safety buffers can be adjusted through the MixControl app. You can choose between Short, Medium, Long and Very long buffer settings.
| Buffer size | Measured latency | Measured latency | Reported latency, Reaper | Reported latency, Cubase |
| --- | --- | --- | --- | --- |
| samples | samples | ms | ms | ms |
| 14 | 221 | 5.011 | 1.5 | - |
| 32 | 257 | 5.827 | 2.3 | 5.261 |
| 64 | 321 | 7.278 | 3.7 | 6.712 |
| 96 | 385 | 8.730 | 5.1 | - |
| 128 | 448 | 10.158 | 6.6 | 9.615 |
Focusrite Saffire PRO 14 latency measurement results and DAW report values, Mac OS X 10.7.4, Reaper 4.261, Cubase Elements 6.06, Firmware version 1718, FW-Driver: 4.0.0.13485, MixControl version 3.0
Round trip latency, driver performance (Windows 7)
The lowest round trip latency of the PRO 14 under Windows 7 at ASIO buffer set to 32 samples (lowest possible value) is 3.741ms at 44.1kHz (165 samples), which is an awesome result. Driver performance makes it usable at larger ASIO buffer setting of 64 samples with resulting RTL of 5.396ms (238 samples). Those values were measured by a friend of mine, he used a Texas Instruments Firewire chip onboard an Asus M2N-SLI Deluxe mainboard and an AMD Phenom X4 CPU.
Ease of use 8/10
In this area the Saffire PRO 14 is a standard audio interface. It's simple and easy to use, but it could have a mains out dim or mute button somewhere. Of course you can control outputs by using the MixControl. Potentiometer knobs are made of plastic and they're a little bit loose.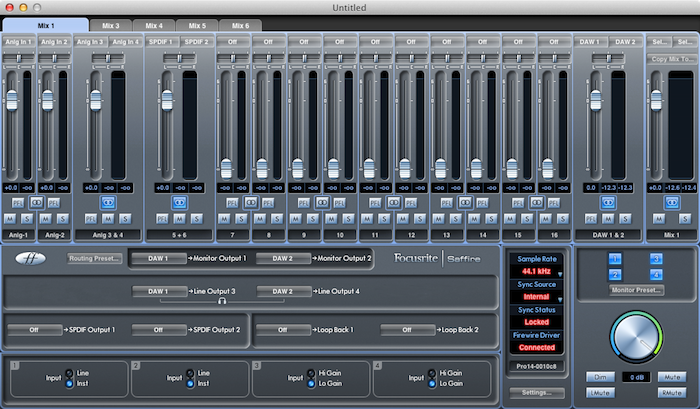 Mix Control
Price 8/10
The Focusrite Saffire PRO 14 a reliable audio interface with fantastic low latency performance and great instrument preamps.
Advantages
Drawbacks
Product page on www.global.focusrite.com
Related articles:
« Back to Articles