Articles
Ibanez RGT 6 EXFX with DiMarzio pickups review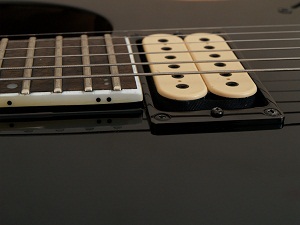 RGT6EXFX is a fixed bridge neck-through guitar designed for rock and metal players. It's a simple and reliable instrument. It's an Ibanez RG and apart from the details it feels like one. It's well suited for many musical styles after replacing stock active EMG pickups with more versatile ones. Its production started in 2006 and ended in 2010. According to Ibanez wiki, at first its body was made of basswood (2006-2008, Korea), but later mahogany was used (2009-2010, Indonesia). I thought at first that I got the mahogany version, but something just didn't add up there, so I checked and it looks like a proper basswood (now there's some finish missing in battery compartment, but I'm sure).
Tuning stability 9/10
The neck is a 5-pc Wizard II and in fact it is reliable in terms of tuning stability. Tuners do their job well. Fixed bridge is tight and stable.
Acoustic sound 8/10
Nice, loud, clear and full. I'm giving it just an eight because not all of the notes sustain equally long. E note on the 9th fret on the G string dies a bit quicker, slight vibrato cures the problem. Besides that one note this guitar offers a fair sustain, but let's make it clear - it's a neck-through, but it's not a Les Paul. It's an RG.
Electric sound 9/10
DiMarzio pickups give tight, clear, cutting edge sound with natural vibe and compression. Super Distortion sounds clear, sharp, perhaps too sharp and gives a tight end, Evolution seems a little bit too dark in comparison but also cool. I guess it's not the perfect pair of pickups for this guitar.
Finish 8/10
Minor flaws in binding around the fingerboard. Other than that it's great, nut is nicely installed. Pickup frames are metal and add to the serious character of this guitar.
Neck 8/10
Typical mid price Ibanez neck with easy access to higher frets because of the neck-through construction. It's supposed to be exactly the same neck like the one that you can find in RGT42s, however it feels somehow thicker. The dimensions are basically correct, I guess it's just a matter of it's profile. It's comfortable anyway.
Table 1 Ibanez RGT 6 EXFX neck dimensions
| Dimension | Value |
| --- | --- |
| Width at nut | 43mm |
| Width at 24th fret | 56mm |
| Thickness at 1st fret | 19mm |
| Thickness at 12th fret | 21mm |
| Fingerboard radius | 15.75" (400mm) |
Features 7/10
Standard features, I can't think of anything else that this guitar should have. Perhaps a graphite nut? Perhaps a softcase? Probably, given its price.
Balance 10/10
Like any other RG series Ibanez RGT6EXFX is well balanced. Whether you're sitting or standing with this guitar it's always in the right position to play.
Weight 9/10
Not too heavy, not light. Lighter than RGT42 which is also a basswood guitar but equipped with a rather hefty Edge Pro II floating bridge.
Price 5/10
Price - around 700 euros new, seems overpriced IMHO.
Specification
24 jumbo frets
25.5" scale
Wizard II neck, 5-pc maple/walnut, neck-through
Rosewood fingerboard (looks like rosewood)
Basswood body (2006-2008 - basswood, 2009-2010 - mahogany)
Ibanez fixed bridge
DiMarzio Super Distortion bridge (DP100) and Evolution neck (DP158)(HH)(stock pickups - EMG 81/85)
3-way switch
Volume pot
Tone pot
Finish - Black
Year of production - 2006
Country of production - Korea
« Back to Articles