Articles
Jackson DK2M Dinky Pro review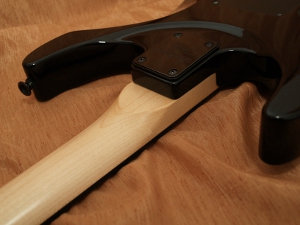 Jackson DK2M is a professional series japanese production guitar with rock/metal bite and sharp looks.
Tuning stability 8/10?
Fine tuners work nicely and they are precise, bridge itself seems to have some issues however I didn't have enough time to test its stability. Being properly set up it went out of tune after only few not too deep dives.
Acoustic sound 7/10
Nice tones, bright and full, but not consistent in overall. There are some notes that have noticably shorter sustain than others, like for instance 12th fret on G3 string.
Electric sound 9/10
Being not a big fan of Seymour Duncan Jeff Beck/Jazz tandem I was positively surprised by the electric sound produced by DK2M. Full, crispy, powerful and well defined.
Finish 10/10
Not only flawless, but also very precise. Fantastic work.
Neck 7/10
The neck is comfortable, slick. It would be perfect if only bolt-on area had a proper profile because it's just an ordinary block of wood with metal plate that gets in the way when you're trying to reach last frets.
Table 1 Jackson DK2M neck dimensions
| Dimension | Value |
| --- | --- |
| Width at nut | 43mm |
| Width at 24th fret | 57mm |
| Thickness at 1st fret | 19mm |
| Thickness at 12th fret | 21.5mm |
| Fingerboard radius | 12-16" compound |
Features 8/10
Numerous features, including Seymour Duncans, professional lightweight case, low profile double locking tremolo and cool fingerboard markers that add to it all. What it could have is a 5-way switch with coil splitting and a better neck joing profile. Back plate that covers bridge cavity could have holes for quick tension adjustment ant restringing the instrument.
Balance 9/10
Well balanced and comfortable instrument, no issues here.
Weight 9/10
Seems proper, it's not light or heavy, feels about right given its compact body.
Price 8/10
Around 800 bucks, considering finish quality, fine pickups and professional hard case it's not that steep.
Specification
24 jumbo frets
25.5" scale
Maple neck
Maple fingerboard
Alder body
Jackson double locking low profile tremolo under Floyd Rose patent
Seymour Duncan TB-4 Jeff Beck and SH-2N Jazz (HH)
3-way switch
1 volume pot
1 tone pot
Finish - Black
Year of production - 2008 (s/n: 9850480)
Country of production - Japan
Advantages
Drawbacks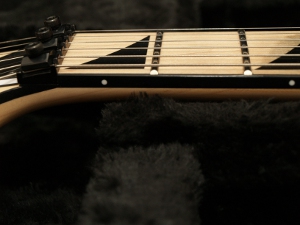 « Back to Articles