Articles
Line 6 POD XT review
Features 9/10
Key features:
Guitar input
Headphone output (1/4" jack stereo)
Line outputs (2 x 1/4" jack)
42 guitar amp models and plenty of effects
Pedal input
MIDI I/O
USB port
ASIO/Core Audio drivers support
GearBox/Line 6 Edit applications that control XT via PC
Tones can be expanded by purchase of add-ons (Metal Shop, Bass Expansion, Collector Classics, FX Junkie)
With POD XT you can:
Practice at home with headphones or computer speakers
Play rehearsals, gigs plugging XT to an amp, PA or house mixer
Record guitar & bass at home
Perform easy cable-free re-amping of recorded dry tracks
Use additional Line 6 foot controller for switching between presets and controlling wah/volume with an expression pedal
Feature wise this device is still impressive. It is also possible to purchase POD Farm plug-in for it for more convenient re-amping, but even without it there are plenty free guitar plug-ins that you can use.
Check out an article on free guitar plug-ins
Sound quality 9.2/10
POD XT sounds pretty decent even years after it was developed. Guitar tones are useful and there's plenty to choose from. It's not as natural sounding as POD 2.0, but it offers more effects and a longer signal chain. It also performs very well as an audio interface.
Tones produced by XT are less of an ear candy than those in POD Farm 2, but they're decent and the device itself gives you a greater feel & responsiveness than POD Studio interfaces. Playing through it feels more dynamic, rapid and only a little bit more digital.
Processing time & round trip latency
POD XT needs 2.65ms to process guitar signal and it makes it a really great tool for recording and reamping as it allows sending dry input to your DAW, and it beats every single audio interface there is. Driver latency is in this case out of any concern.
Line 6 POD XT driver settings
Ease of use 9/10
XT is quite easy to operate, especially on a computer. GearBox/Line 6 Edit are great apps for tweaking tones, saving and managing presets. Presets can be saved on a computer and also to XT.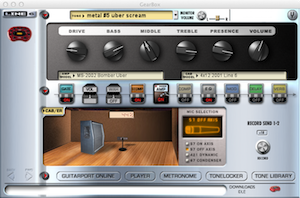 Line 6 GearBox application controlling POD XT
Price 8/10
POD XT are no longer made, but they go for around $150 used and it's a great price. It did cost a lot more when they produced it.
Advantages
Drawbacks
Line 6 POD XT on wwww.line6.com
« Back to Articles