Articles
ESP Ltd. EC-50 review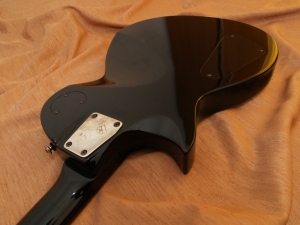 ESP Ltd. EC-50 is low budget metal Les Paul type axe. It's equipped with 24 frets two humbuckers and a tune-o-matic bridge.
Tuning stability 7/10
Tuners aren't bad, really. It was just the nut and poor quality bridge that made EC-50 go out of tune. These are inexpensive to replace.
Acoustic sound 8/10
It's a basswood alright, but it's a big and loud piece of basswood. Loud, full and bright tone. Sweet and really long sustain especially for such an inexpensive instrument.
Electric sound 10/10
LH-150 humbuckers aren't EMGs but I like how they sound. It's a saturated metal tone with fair attack and natural passive character.
Finish 8/10
The guitar is nice, but I have some serious complaints. Poorly cut nut and not so tight bridge with loose saddless can give you a headache. Uneven frets, uneven first fret to be more precise. So after replacing the nut, the bridge and leveling the frets it's a totally cool guitar.
Neck 8/10
Shorter scale and 42mm wide nut make it friendly. It's a bit thick, but pleasant. Upper fret access is a bit limited because of the guitar's shape but it's far better than it seems.
Table 1 ESP Ltd. EC-50 neck dimensions
| Dimension | Value |
| --- | --- |
| Width at nut | 42mm |
| Width at 24th fret | 57mm |
| Thickness at 1st fret | 20.5mm |
| Thickness at 12th fret | 22.4mm |
| Fingerboard radius | 300mm or so |
Features 8/10
Standard features.
Balance 8/10
EC-50 is well balanced and comfy on a strap, however tends to fall of your lap, the cutaway in body seems to be too small.
Weight 9/10
Hefty but within reason.
Price 9/10
Price - around 200-300 euros new, not that bad.
Specification:
24 extra jumbo frets
24.75" scale
Thin U maple bolt-on neck
Rosewood fingerboard
Basswood body
42mm standard nut
Fixed tune-o-matic bridge with tailpiece
ESP tuners
ESP LH-150 humbucking pickups (HH)
3-way switch
2 volume pots
1 tone pot
Finish - Black
Year of production - 2006
Country of production - Indonesia
Advantages
Drawbacks
« Back to Articles