Articles
ESP Ltd. H-307 review
ESP Ltd. H-307 is a pretty much sought after 7-string that was made in 2000-2002. Mahogany body with maple top, neck-through construction, T-O-M bridge with tailpiece.
Tuning stability 9/10
Decent tuners, well cut nut, tight bridge. It's okay when it comes to tuning and it stays in tune for quite long.
Acoustic sound 8/10
Dark, warm, round and pleasant. I would say that it sounds powerful, given its body which is only 38mm thick.
Electric sound 9/10
I've never had a chance to check out its stock pickups as I bought this one with EMG 707s. They deliver harmonics like nothing else I have played. The tone is saturated, round, thick and ballsy. Versatile and useful sounds.
This guitar was used in recording of a grindcore album Bullet(in) by FAM: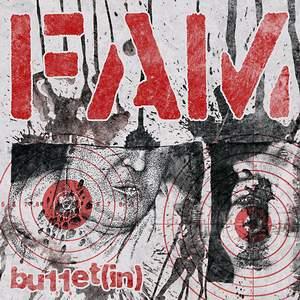 Check out FAM on MySpace and listen to Bullet(in)
Finish 9/10
High quality finish, no complaints.
Neck 10/10
25.5" scale and thin U neck-through neck with upper fret access that good that it beats every Ibanez I have ever played. The best, most playable neck I have layed my fingers on.
Table 1 ESP Ltd. H-307 neck dimensions
| Dimension | Value |
| --- | --- |
| Width at nut | 48mm |
| Width at 24th fret | 68.5mm |
| Thickness at 1st fret | 20.5mm |
| Thickness at 12th fret | 21mm |
| Fingerboard radius | probably 12" |
Features 8/10
Standard features, nothing fancy. No TonePros bridge, standard plastic nut, no straplocks.
Balance 10/10
This guitar is perfectly balanced and shaped. Thin, slick body makes it exceptionally comfortable.
Weight 10/10
H-307 isn't heavy but on the other hand it certainly doesn't give an impression of a cheap instrument.
Price 8.5/10
Price - around 750 dollars new, it's not a bad price.
Specification:
24 XJ frets
25.5" scale
Neck-through construction
Mahogany neck
Rosewood fingerboard
Mahogany body with figured maple top
Fixed tune-o-matic bridge with tailpiece
ESP tuners
2 EMG 707 humbuckers (HH)(stock - EMG HZ-707)
3-way switch
1 volume pot
1 tone pot
Finish - See-thru Black
Binding: neck - white, body - natural
Hardware - black
Year of production - 2002
Country of production - Korea
Advantages
Drawbacks
« Back to Articles